–Dr. Freedman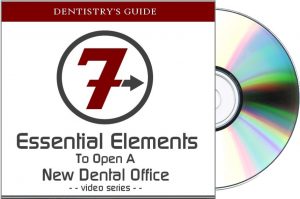 ELEMENT #1:
[part 1 of the 7 part series]
Transform The Way You Think About
The Patient Experience
—————————————————————————————————————————————————-
The Introduction to
Dr. Freedman's Transformation
—————————————————————————————————————————————————-
The Back-Story:
If you had seen Dr. Jay Freedman's practice 5 years ago, right before building his new practice with my team, you'd know why he needed to build from scratch.
At the age of 55, Jay was getting tired of his equipment. Frankly, his equipment was tired.
Decades ago it was actually great equipment but it was purchased and manufactured by a company that had since gone out of business. The worst of his 5 operatories was now a cannibalistic feeding ground for the operatories which needed working parts. The practice's appearance was mediocre and it wasn't the kind of image he wanted to portray to patients and staff. On top of that, the down-time of non-functioning equipment was costing him valuable production.
Should he build in a new location or revive the existing space?
That's when he discovered working with my team and these 7 Overlooked "New Dental Office" Planning Principles which changed his practice, his patient relationships and his life.
He learned, studied and applied each of these in planning his new facility. It all started with a conversation with my team and the journey toward "opening day" took 6 months.
Element #1: The Patient Experience
The 1st of 7 "New Office" Planning Principles will transform the way you think about the patient experience.
This Element is first because it is the most important. If you do plan your standards for the Patient Experience correctly – and before all other Elements – you'll build more confidence and clarity about how the best new practices are created.
With your new level confidence and clarity, you'll have the necessary guidance to lead you.
But isn't this obvious?
Unfortunately, no.
What we see happen, all too often is Doctors who start with the Patient Experience as the epicenter of their plans. But sadly, they finish with that epicenter turning blurry. Worse yet, some doctors lose all sight of their initial goal of the right Patient Experience. The focus can get burried by budgets, timelines, construction schedules, vendor coordination, frustration with managing a dental career and a project that might not be coming together the way you dreamed.
This confusion can turn a dream into a let down.
See, the "Doctor" in you knows that your future new office is about patients.
The best offices are centered on the patient's care, comfort and health. But all the complexities of an overwhelming now-office project can distract even the most conscientious of doctors from their original goal: Patient Experience.
It is crucial that you work with an unbiased and experienced team. We call this your Practice Project Team.
Your Practice Project Team
The right team will not only guide you – they will remind you of your goals.
In the harriest, scarriest and most stressful moments that can come with the building of a new office your practice project team will help keep the focus on your initial goals.
Is this just a fluffy, nonsense topic?
No!
This first element of the 7 Most Overlooked Planning Principles is the first for a reason. It matters immensely!
Pin it up on your wall.
Send yourself a text message.
Put a reminder on your calendar.
This is a topic that will define your ability to care for patients for decades.
Be sure you have a plan to stay alligned with The Patient Experience as your guiding principle through the journey of opening your new office.
—————————————————————————————————————————————————-
* We are a community of people caring about new practices so that practice owners can care for patients.
* Our community knows that with excellent patient care come excellent practice profits.
* Our doctor-clients experience fulfillment, passion and excitement when they create the practice of their dreams.
* We are a group who knows that a dentist who goes to work passionate about their field and proud of their practice can have less stress, greater results and deeper satisfaction.
You can start to transform your capabilities, profits,




fulfillment and pride in your practice today….give us a call.
—————————————————————————————————————————————————-
Experience
The Virtual Tour
of Dr. Freedman's Office
Take A Glimpse at
Dr. Freedman's Floor Plan

Take The Journey Towards




Dr. Freedman's "Opening Day