–Dr. Elliot Lee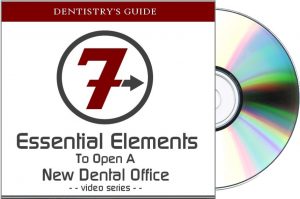 ELEMENT #5:
[part 5 of the 7 part series]
Avoid Career-Ending Injuries
If You Design Your Office Correctly

—————————————————————————————————————————————————-
No Joke; Transform Your Chairside Comfort…


Without Pain Relievers!
What do you call the guy standing in line at the amusement park who's neck is bent slightly to the left?….A dentist on vacation…..
Ok, so it's not a very funny joke but it highlights an important issue:
"1/3 of dentists who retire early do so because of
musculoskeletal disorder, according to a Dental Products Report article"
—————————————————————————————————————————————————-
The True Story of a Start Up Success

Have you imagined starting up your own practice?
The journey is incredible. The rewards are very profitable. The fulfillment with your own standard of care is unmatched.
But the process is scary and filled with information overload, biases and confusion.
Dr. Lee did it differently.
When Dr. Lee and his wife met with me for the first time, we poured over demographic data. We searched for the right location. We collaborated on analyzing his lease. We put together marketing plans. We designed the new space and we teamed up to bring him 420 new patients in just the first 12 months. A strong growth curve for practice thats now on pace to do a million dollars in production.
In the video you'll see below, Dr. Lee tells his whole story – and explains the exact steps in the process that were overwhelming and how he beat the odds to build a practice from scratch into the envy of other doctors in town.
While some practices slowly grow 1-2% (a recent survey reports national growth…others report nationwide decline in private practice revenues), Dr. Lee is racing along.
He's using the benefits of all our planning and leading his team to daily success, creating a habit of success for him, his family and his patients.
And one of the most important design elements he used was a hyper-focus on ergonomics.
—————————————————————————————————————————————————-
The Proper Use of Ergonomics in Practice Planning
Dr. Elliot Lee designed his new office with ergonomics mastery so he could take his vacations without the pain relievers. He wanted to be able to practice for years to come – without the fear of ending his career early because of avoidable pain.
And why shouldn't he? He has a wife a son and a daughter on the way. His parents live overseas and he is here, as the primary income provider for his family. He, like many dentists, can't afford to get this wrong.
Beyond the terrible waste and early termination of a wonderful career, there is the impact of chronic pain on the doctor and the golden years of life which may never be enjoyed.
It's really not a surprise though, since dental schools don't formally teach the topic and because of that many existing doctor's practices have developed unfortunate habits.
Thankfully, you're stepping into the design and development stage of your new office with eyes wide open. The doctors who work with our team evaluate the full spectrum of solutions for ergonomic health.
Each of the following items can have dramatic effects on and prevention of musculoskeletal disorder:
Operatory Layout (is your chair spaced properly from your cabinetry?)
Seating (many doctors prioritize the patient chair over the doctor stool. Beware of this mistake!)
Lighting Technologies (new technologies add dramatic benefits to sight preservation)
Proper Positioning of Equipment (the wrong repetitive movements can terminate your career)
Magnification (will you invest wisely?)
Delivery Unit Positioning
Floor Plan Flow (avoid thousands of unneeded steps taken by you and your staff every year)
Patient Positioning (headrest styles, handsfree settings, height and angles will decide your long term comfort)
Our team will help keep you ahead of the curve
with the long term issues and solutions for ergonomic success.
—————————————————————————————————————————————————-
The Virtual Tour of
Dr. Elliot Lee's Office
—————————————————————————————————————————————————-
The Floorplan That Revolved Around
Proper Ergonomics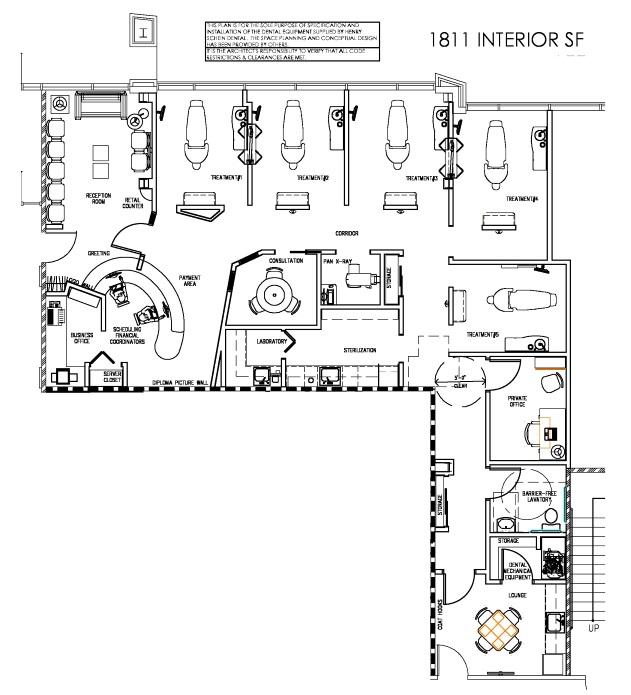 —————————————————————————————————————————————————-
Watch Dr. Lee Tell His Story
A Start Up Practice Explores The
Truths of Ergonomic Planning
—————————————————————————————————————————————————-
More Comfort and More Profits with Dental Ergonomics.
Listen in and Let Brian Explain Why…
Watch Brian's training video and learn the surprising truth about 5 areas in the operatory that will affect your ability to work in comfort.
Hear how options as simple as these will affect the rest of your career:
– The debilitating difference between a Class IV and Class V Chairside Movement
– Patient positioning
– Proper over-the-patient lighting technology to keep your vision healthy
– The correct armrest style
– The importance of a double-articulating headrest
– Hands free operation techniques to avoid unnecessary movements
Discover these realities and more in the training video below. Put these concepts to work. And you'll be able to work as long as you enjoy practicing caring for patients.
—————————————————————————————————————————————————-
Prepare for Element #6
[part 6 of the 7 part series]
Dental Financing
In Element #6, you're going to hear directly from me on the topic of financing.
Is a new office affordable?
How do the finances work?
How do you pick a lender?
How do you know if you're working with a lender who is fair?
What questions need to be asked before you sign anything?
In Element #6, get ready to take a huge leap forward in your confidence with financing.
This is possible and you'll learn how others have done this well. And done it successfully.
I'm looking forward to teaching you personally in our next video!
Watch for my next email in just a couple of days.
Best,
Jayme
PS: How we can help you create the practice you've been dreaming of?
Email me. jayme@HowToOpenADentalOffice.com