TOP EXPERTS IN DENTISTRY
I hosted 9 of the TOP EXPERTS IN DENTISTRY while I was in Nashville.
The result?
A once-in-a-lifetime training…all caught on video.
Get Your Copy of the Top Experts in Dentistry Video Training Here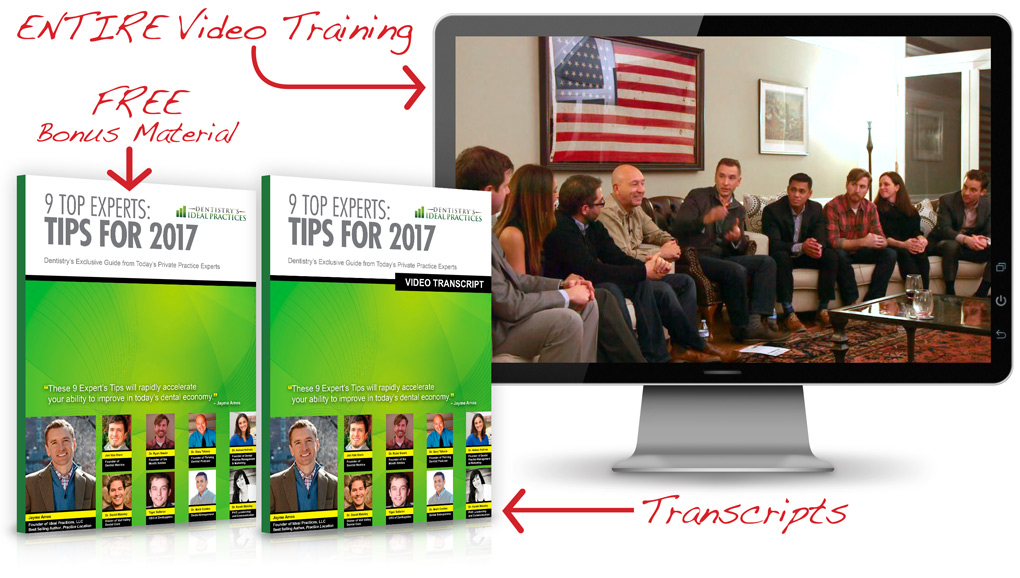 Imagine…What would you pay to sit with 9 of the TOP minds in dentistry?
This is who you are going to learn from today:
Gary Takacs (Thriving Dentist Podcast)
Dr. Anissa Holmes (Delivering WOW)
Dr. Mark Costes (Multi-practice owner, DentalPrenuer)
Dr. Ryan Swain (founder of 6 Month Smiles)
Jonathan Vanhorn (CPA, DentistMetrics)
Dr Dave Maloley (Relentless Dentist Podcast)
Dr. Karah Maloley (Leading Dentist Podcast)
Tiger Safarov (CEO, Zen Supplies)
And me!
Incredible group, right?!
We were going to charge a couple thousand for this video as a course.
But, frankly, it's just too good to hold back.
So, right now – you can get it for nothing.
Why?
I worked with my video team, graphics team and web team to build this as a training so that all dentists can learn.
The 9 Top Experts in Dentistry will give you specific actions you need to take in 2017 to thrive in dentistry!
Enjoy!

PS: My ONE REQUEST…
***Share this with at least 1 colleague.
I want these ideas to help as many docs as possible! Thanks!
Go here to get access to the 9 Top Experts in Dentistry Video Training Now.
Check out our reviews at Amazon!