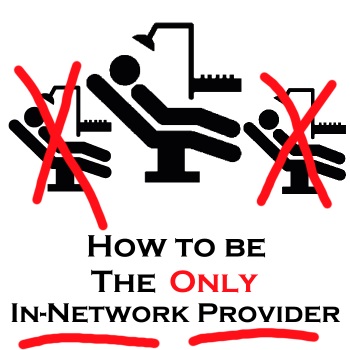 "If you want to have no competition become a category of one" Seth Godin
What if your practice was recognized as The Only In-Network provider for specific companies in your location?
What if
you could serve more patients
increase your new patient flow
so your practice could be more profitable
so you could then be more fulfilled
by giving great clinical care to more people every month.
In today's podcast Jayme will tell you exactly how you can be the only In-Network Provider for local companies in a few easy steps.
In Today's Podcast You Will Learn:
What is a Category of 1 and how to become one

How one dental practice get over 1000 New Patients every month and why they are now on the Inc. Top 500

How to create your own in-house dental benefit plan and Fee For Service Network

Why you can forget about insurance paperwork, denied claims and pre-determinations

What two pieces of paperwork people will never, ever throw away!

Jayme's piece of Extra Juice that is imperative to your success
Bonus:
Click Here for one of the most influential marketing thought leaders of our time.
Visit and Like us on Facebook!: facebook.com/idealpractices
Check out our reviews at Amazon!