By Jayme Amos. Get free updates of posts here
How do practices create "self-managing" front desk staff?
This graphic shows the 12 Duties of a self-managed front desk staff. At each stage, a precise moment of interaction occurs with a patient
…can you guess which stage is most important?
(hint: it's not clinical)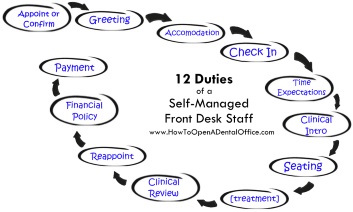 ==Click To Enlarge==
These 12 Duties
Though all 12 duties should exist in every practice, the most important Duty is the first:
Appoint/Confirm.
Without the Appoint/Confirm Stage, nothing else matters.
Why?
Because without a beautifully executed Appoint/Confirm Stage, the patient may never show up.
You can learn the 7 easiest ways to rapidly improve the Appoint/Confirm Duties of the team. Click here for the replay of the webinar training that will launch your practice to the next level.
Do this well, and you'll begin creating a self-managed front desk.
This was a hugely successful event
"Awesome class! Thank You :-)" Dr. C.D.
"Thank you!" Dr. A
"Great info. Yea!!" JG
See why everyone is raving about this webinar.
Join us for the replay. Click here for instant access.

Most practice owners never realize how much potential is left untouched…the first stage must be perfected for your practice to reach its potential.
The Self-Managed Front Desk Staff
NAILS the Appoint/Confirm Stage
When staff gets the Appoint/Confirm stage right, they become more self-managed and a fascinating trickle-down effect takes place. All 12 stages begin to improve rapidly, creating a dramatic effect on each patient experience.
As you know, when patient experiences improve, you create higher profits, more free time and less stress.
And it all begins with the right training on the Appoint/Confirm stage.
Starbucks trains baristas for weeks. Walmart trains greeters.
Is it time for your team to be trained?
What you get From Training Staff
This is what happens when your front desk staff is trained and becomes "self-managed":
you're free to focus on patients
you delegate more tasks you don't enjoy
you spend more time building the practice
you have more time to treatment plan well
you avoid stress from "front office" mess
you have mental room for great case presentation
your cash flow puts you in a better financial place
This all begins with the Appoint/Confirm Stage, the most important stage of all 12.
How will you help train your staff to get the Appoint/Confrim Stage right?
This Training Event will get you the 7 easiest techniques to start using now.
This training can take your practice to the next level!

Click Here now for the replay!
See you there –
Jayme
Check out our reviews at Amazon!