By Jayme Amos. Get free updates of posts here
A Proven Technique for Powerful Dental Employee Reviews
Straight Out of Jayme's Backyard
Have you heard of the "1-10 Practice Grade" technique for dental employee reviews?
Every week, I meet with clients to discuss building offices, coding, profitability, new patient marketing and reimbursement strategies.
Yet the topic that seems to cause more anxiety and exhaustion in dentists everywhere is Staff Harmony and Employee Reviews.
One of the most important and potent moments in leadership of staff happens during the Annual Dental Employee Review.
During that 30-40 minutes, you can create dramatic increases in:
a) confidence
b) redirection
c) vision
d) loyalty and
e) motivation
Why didn't they cover that in dental school?

Even a mild "warning" class would have been nice.
One of the SIMPLEST and STRONGEST tools to use during Dental Employee Reviews is the "1-10 Practice Grade".
With this technique, you can earn trust, loyalty, mutual show of respect AND you can harvest the best ideas to improve the practice. With 1 question and a 10 minute conversation, your staff will trust you more, have more loyalty to you as their employer and be more passionate about their role.
The Power of Creative Contribution:
One of the most intriguing impacts takes place when you use this tool in your Dental Employee Reviews through the process of Creative Contribution.
Humans are much more committed to the things they help create. If a human invests their energy in creating something, they'll be more likely to stay engaged and loyal to that project.
By using the 1-10 Practice Grade technique, you activate this powerful psychological nerve by getting the staff to creatively contribute – earning you and the employee more satisfaction, loyalty and involvement.
Try it!
The 1-10 Practice Grade Technique works like magic.
Watch this video and see how I use it:
(and check out my kids favorite toy in our backyard!)

1-10 Practice Grade Technique – Dental Employee Reviews – In Jayme's Backyard
Want more good ideas for Employee Reviews?
I'd encourage you to reach out to Ginny Hegarty, an HR/team development pro with over 25 years experience in dental practice management. You may be familiar with Ginny's work on team development and communications from articles she's written for the American Dental Association and podcasts with The Academy of General Dentistry. Email Ginny for a complimentary pdf of her chapter from the latest edition of Powerful Practice titled Stop Kissing Frogs: How to Find, Manage and Keep the Best People. Ginny@GinnyHegarty.com
I've gotten to know Ginny personally and have been very impressed. She's the go-to team growth expert for practices all over the and has spoken to some of the most prestigious groups in dentistry. Send her an email and let her know I sent you – I know she'll be excited to help!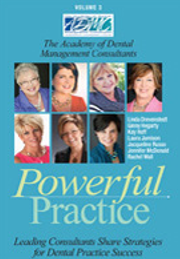 Best,
PS: Want a proven technique on hiring?
Read the article we created – it shows a technique for getting 200+ of the best applicants for the position! Click here for that article.
Check out our reviews at Amazon!