By Jayme Amos. Get free updates of posts here
Dental Graduates:
The day we've all feared has finally arrived.
The day we've joked about among colleagues is no longer a joke.
For the first time ever, 2014 marks when new General Dentist graduates can stare at a scary number before they begin seeing their own patients:
$1 Million in debt.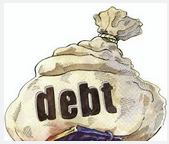 Whoa.
This is a day to remember.
I'll explain below how this is the first year that it's possible to owe 7-figures before sitting chairside in your own practice. This could be the day that we will remember that young dental graduates begin their careers with a NEGATIVE net-worth of $1 Million.
Shocking?
I hope so, because there is something we can all do about it and turn this reality into a great opportunity for dental graduates and patients too.
Bonus Material: Read to the end to get a free download with step-by-step methods to turn dental debt into high profits. Learn the tools created with a decade of research behind it. Get it here.
Below, I'll explain the math related to a dental graduates $1M negative net-worth. And, more importantly, in the next article we'll explore what kind of an action plan to put in place to so the realities of today's dental education debt loads result in a benefit for the young dental graduate and the patients.
Here is what you'll find in this series:
1) The Math – how to count up to "negative $1 Million"
a. Undergrad
b. Room and Board
c. Dental School
d. First Practice
2) The Top 2 Reasons for Optimism
a. Lower Average Costs and
b. Why Dental Debt is actually good and profitable for dental graduates.
3) The Action Plan – how to make it all work in your favor
The Math:
If you're anything like my wonderful, beautiful, smart, master's degree wife, you don't love math. Frankly, it may even frustrate you to "do" math while knowing a calculator and a spreadsheet are a click away.
So if you're going to skip the math in this section, know you can count on my numbers… I'm very different from my wife in that I'm kind of a numbers dork. I even remember watching a guy on Oprah when I was 8 years old who could calculate any math problem yelled out from Oprah's audience and spit out the correct calculation. That guy was my idol for a whole week.
So here is the way the math breaks down:
Undergrad Cost= $140,000
According to a recent US News report, there are multiple undergrad programs nearing $50,000 per year and few people expect that list to shorten in the coming years. Clearly, less expensive schools can be attended but for those of us who select private universities or out of state schools, the tuition bills look substantially higher.
So, for our calculation, we could use any number above $30,000 and find dozens of schools that proudly charge it. But for this exercise, we're going to use $35,000 for each of the 4 years, knowing that our number is a little on the high side in 2013 terms but arguably on the lower side 4 years from now. So $35,000 x 4 years equals a total of $140,000.
Below, you'll see a list from the US News report that shows the top 10 most expensive schools in the country.
Remember, these numbers are only for this year. Prices aren't likely to do anything but continue to rise in each of the next 4 years that undergrad students are attending!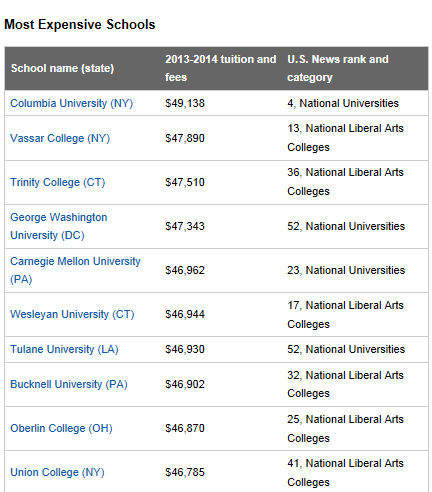 Do any of schools listed below surprise you?
Room and Board Cost (undergrad) = $48,000
A factor to remember for dental undergraduates is the cost of living…which is NOT included in the infamous $50k undergrad amount. In other words, room, board, books and personal living expenses will make the number go higher. Many of the recent reports are showing the averages for room and board to be close to $10,000 but that doesn't include the cost of books and fees. So let's call it a conservative $12,000 per year in our calculations (though the graph below proves we may be using too low of a number).
To see more costs on room and board check out this article.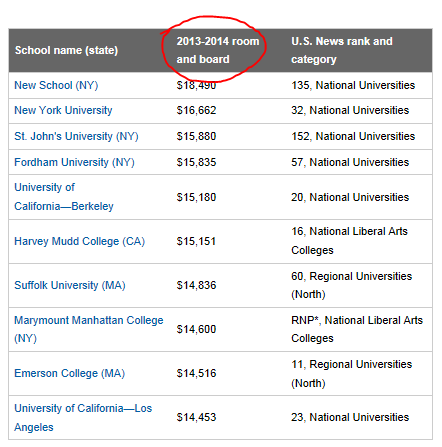 Dental School Cost = $412,000
This one is the big kahuna. And for our calculations I'm going to use the pricing from a university near and dear to my heart.
I'm from the area of Philadelphia, Pennsylvania. I LOVE our city – two of my most prized possessions are a painting that depicts the signing declaration of independence and my framed replica of the declaration document…both hang in my office and both have their origins from my city of brotherly love.
And the biggest dental school in our city is the University of Pennsylvania. The program is renowned and we're fortunate to have a formidable rival dental school of Temple Dental in the same city. UPENN may not be the least expensive dental program but it's excellent and it's likely that many dental students will face costs similar to those of UPENN.
For our conversation's sake, let's look at the recently published information on the costs at UPENN.
"Holy cannoli", says the guy from Little Italy in South Philly.
That's a lot of money!
$412,000 is a real number that many real dental graduates are paying. While $412k may not be the average of all dental schools' annual cost, it helps us mark the year of 2014 with some bravado and shock.
This is the reality for many of today's dental graduates. And it will likely be the reality for the majority of future dental graduates too. But we're not done racking up debt yet…
Startup Dental Practice Cost = $400,000
Typically, we see $350,000 – $450,000 as a safe target, depending on your part of the country. Check out this recent article on dental start-up costs.
$400,000 is a reasonable number to work with when estimating start-up costs so we'll use that amount for our calculations. While many practices can try and squeak by with a shrunken budget, the majority regret the cuts that are the result.
I've helped many, many doctors open their own practices and we've seen some stellar success stories. The biggest successes look at the realities of costs, skills, demographics, management and marketing…BEFORE they start their project. You could certainly just dive right in but if we can plan out some proven principles and actions ahead of time, we can limit your risks dramatically.
Start-Up Practices Must Have A SOLID Strategic Plan in 5 Categories:
A) Costs
B) Skills
C) Demographics
D) Management and
E) Marketing
With a proper emphasis on all 5, we can roll out a high likelihood of practice success in start-up practices.
And when we do, the personal rewards for you are unbelievable.
You should see the look of pride, accomplishment and honor that a doctor has when they first walk into their own start-up facility. I've seen it many times and it's a look that's worth all the months of effort and energy. That moment, when the facility is complete, is truly a culmination of a mountain of effort, planning and energy.
It's a bit like a large Broadway production with its endless components, the artistic choices and its orchestrated elements.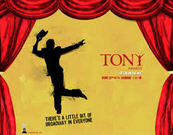 The curtain will be drawn with the anticipation of all the people supporting you in your project. But in the case of opening your own practice, the one taking a bow is you. It becomes your defining moment. But it must be done right and there is a proven way through each of the 13 steps of opening a practice.
Planning everything out the right way, the first time is worth it. Your practice embodies a representation of you to your family, your team and your community in ways that allow you to stand boldly with a high quality facility.
I've experienced building a business from scratch and generating over $1 million in revenue in the first year. The fear, energy, fulfillment, and financial rewards are worth the necessary debt. But it takes intentional planning to make it work properly! It's that experience and years of working with dental graduates that give me the confidence to say we can bring a startup practice to a place of profitability quickly.
The Argument Against a $400,000 Debt for a Start-Up Practice
Ok, ok.
So I hear some people thinking, "But Jayme, not all dental graduates are going to do a start-up".
Their point would be that not every dentist will incur $400,000 in start-up practice debt.
Point taken.
The alternative would be buying a practice. And how much might it cost to purchase a practice in today's market?
I'll hold back on opening up a can of worms here but I can tell you with complete certainty that it is very unlikely that you can purchase a profitable practice for less than $400,000 if you plan on earning a full time income from that practice.
You may be able to find something less expensive but if you need a full-time income, you'll likely need to continue working as an associate somewhere else. That's another topic for another day so we'll simply work with an average acquisition price of $500,000.
The average practice in America is said to produce about $750,000 which would sell in today's market for about $500,000. I'll bore you with the math on that calculation in a later post but rest assured, it's difficult to step into practice ownership with full time income potential for any less than $400,000.
Draw dropping? Yes.
But true? Yes again.
So, back to the math.
Let's recap the numbers we've covered:
Undergrad = $140,000
Room and Board (undergrad) = $48,000
Dental School = $412,000
New Facility = $400,000
TOTAL = $1,000,000
Wow.
Real numbers, real intimidating.
That's how to count up to a "negative $1 million net-worth".
Welcome in 2014, right?
(enter, Philly sarcasm)
But don't jump off the bridge yet!
I have some good news for you!
How can this be good news?
I have 2 pieces of news for you in our 2nd part of this dental graduate debt series that make this 7-figure debt load look more optimistic.
Our next article, the 2nd in this series, will be one you don't want to miss.
We'll discuss the 2 Reasons for Optimism on the topic of "Big Dental Debt".
#1 is Lower Average Costs for some dentists and #2 explores how Dental Graduate Debt is actually good and profitable for you in the near term and the long term.
A comment on the prices of education:
Throughout this article, calculations are based on a student paying full price for an average-cost undergrad tuition and full price for the dental school mentioned.
Why am I laying out the numbers this way? Because it's happening right now. Undergrad debt loads are climbing and, though many students get financial help, grants have decreased to the national tune of billions of dollars while enrollees are up 27% from 10 years ago.
This is clearly a recipe for even higher prices and higher debt loads in the coming years. Worse yet, when analyzing dental school costs and enrollment, it's been said that prices have never been higher and competition for acceptance has never been more competitive.
We're in a new era of the dentist with a negative $1 million net-worth for dental graduates. It would be beneficial to recognize the cost of graduating from dental school and the resulting need for a strategic business plan in all modern practices.
The proper, planned use of insurance participation, clinical offerings and financial management can have profound positive impact on a practice's success and a doctor's ability to afford the current day costs of dental education.
Let's do a Quick Recap of this Article:
We covered the shocking and rising costs of getting started in dentistry. It's now officially possible to owe $1 million from education and your practice before you see your first patient.
In the next article of this series, I'll give you the good news about dental debt and give you a strong reason for optimism on this subject. How can this be good news? How can I say this is Optimism, you ask?
Bonus Section: Get the Free download with step-by-step research to make your debt work for you. You'll have access to the tools and knowledge other doctors use to make their dental school debt profitable. Get it here.

Watch for my next article!
I'll share with you 2 pieces of news that make this 7-figure dental debt load a reason for optimism:
#1 – 6-Figures Instead of 7-Figures
#2 – The Good and Profitable Dental Debt
Thanks and I look forward to our discussion next week,
Check out our reviews at Amazon!